Mar 1, 2016
There is something fascinating about objects in decay and it has been my ongoing agenda to express this precious state in life through floral art. For this project in particular, I expressed my wish to use decaying flowers. The word, Vanitas, a genre of dutch painting often uses rotten fruits, wilting flowers, or skulls as subjects to symbolize mortality and vain, seemed to me that it was a right word to describe this project. Sam loved that idea and Vanitas became the official title for the project.
Letting Ranunculus Decay
- Aya Mar 2016

I kept these dark purple ranunculus to let them decay so that I can include the decaying stage of flowers to actualize what Vanitas paintings wanted to express.
Selecting Flowers Based on My Sketches
- Aya Mar 2016

Composition and Lighting Test
- Sam Mar 2016

I was fascinated by Sam's effort, diligence, and knowledge... basically everything she does for the project! She came up with an idea to project my sketches digitally to test composition and lighting.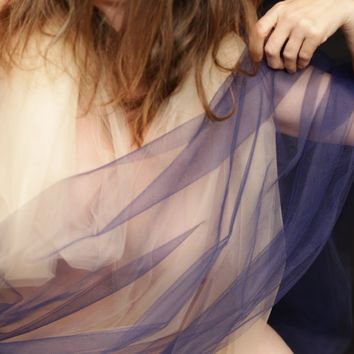 Fabric Transparency Test
- Sam Mar 2016

Another cool experiment by Sam, fabric transparency test, for some of the models with no-nudity requirement. It was a very new and thrilling process to get to work with her since she does numerous tests to get to the right point and I truly admire her whole scientific approach.